Geocities closed down their free website hosting last month. My first webpage was hosted by them.
I had the choice of downloading everything again or lose it. What a pain it was to download from that site!
Anyways, I had links on the old pulse jet forum to things I had posted there.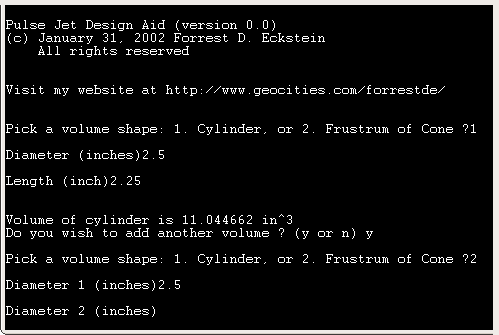 One of these 'things' was a program I wrote in C back in 2002. I wrote this before Eric's calculator. It was compiled and ran as an executable in a console window on a µSoft windows machine.
It would calculate the total volume of a pulse jet made up of any number of cylinders and frustum of cones.
The dimensions were interactively input by the user.
It would also estimate the fundamental cycling frequency.
It would be a fairly simple matter to now incorporate an estimate of thrust.
If there is any interest, I can link to it again (somewhere).
PS

It is

frustum

of cone, not as I misspelled it some almost 7 years ago.